PLANTS DROP WISDOM – Flower Essence Certification
With Brooke Sullivan
September 1 - October 20, 2019
Flower essence therapy is a field that is currently growing exponentially, worldwide, and for a good reason. The flowers have tremendous healing potential that is unique, life-changing and reaches deeper into the subtle realms than many other healing modalities.
The foundations of this unique 8-week course are steeped in Brooke's experience of more than 18 years working both professional & personally with the Flower Essences, as well as her path as a Tantric Yoga Teacher Trainer and trained Herbalist.
Dates for the Fall 2019 program: Sundays, September 1 – October 20
Over the course of 8 weeks, we will study the full spectrum of flower essence therapy as well as learn languages, blueprints + methodologies to better understand the wisdom of the plants, human psychology, higher realms of consciousness, nature and the subtle, unseen realms.
—
—
One of the unique aspects of this course is that it is a hybrid of live group calls with Brooke, allowing for personal connections and mentoring, plus weekly videos, audios + a course manual to learn from at home at your own pace.
Another unique aspect of this course is Brooke's knowledge and comparisons of flower essences with homeopathy, and her experience with the subtle realms coming from the ancient perspectives of the Himalayan sages. She will be sharing with you her personal knowledge of the plants, spanning from almost 2 decades of study + application. She is dedicated to support each student's growth in not only personal and collective healing, but in elevating consciousness for a happier, more fulfilled life.
Each week will include:
Audio and/or video file presentations
Plant meditations + activations
2 hour Live meetings on Zoom
Private group forum for deepening experience + community connection
The course also includes:
a set of 8 handmade flower essences prepared by Brooke to use throughout the program
a beautiful flower essence manual (e-book or printed gold spiral bound book)
Upon completion and having met the requirements, students will receive a certification from The Wild Temple School of Yoga + Herbal Wisdom.
Brooke's Background in Flower Essence Therapy
Brooke Sullivan has been a flower essence practitioner since 2000, largely devoting much of her time getting to know each plant and each remedy, one at a time. Her lineage of study comes from an amalgam of the Bach repertoire case studies as well as the flowers of Flower Essence Society (FES). Since earning her professional certification with FES in 2012, Brooke has incorporated some flower essence training into each of her yoga teacher training courses in Grass Valley, and has been bringing a group of these students to tour the Terra Flora Gardens each year and meet Patricia Kaminski and Richard Katz, founders of FES.
Now, after decades of meditating with and studying the plants, the plants themselves have inspired Brooke to offer this course. She hopes that in bringing this information forward, students will begin to reclaim their own empowerment for health as well as go out and practice healing with this potent medicine in their own communities.
—
Teacher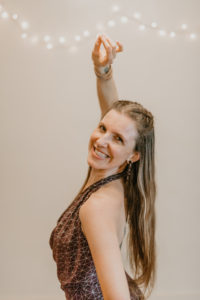 Brooke Sullivan
Brooke Sullivan BA, e-RYT500 is an herbal yogini, writer, retreat leader, practitioner and educator of the Science and Philosophy of Sri Vidya (ParaYoga) Tantra. She is the director of The Wild Temple School of Yoga and Herbal Wisdom and lead teacher of the Wild Temple's 500hr. yoga training program. An initiate of the Himalayan Sages, her passion is to empower and to embody the sacred in all aspects of life and her mission is to empower people…sometimes even, radically…to step into their highest, healthiest most powerful selves. Brooke's dedication to yoga and the healing arts has been cultivated with…
Learn more about Brooke Sullivan