Tantra + Shakti 2019 (100hr)
With Brooke Sullivan
September 12 - November 21, 2019
Tantra Yoga is a living embodiment of practice. It is an awakening of dormant energy that is the nexus of our power, understanding, will, clear seeing and right action. Unleashing these powers is both goal and effect when one devotes themselves to a steady, focused practice of Tantra.

In this immersion, we dive deep into the essence of tantra. While tantra has many meanings and applications, the results of embodied power & wisdom, and the improved ability to weave, expand, accelerate & see clearly oneself and one's surroundings, are all possible through the embodied tantric practices you will learn in this class. Students are required to have had a regular yoga and/or meditation practice for 2 years prior to taking this class OR to have taken the Sage Yoga Teacher Training 200hr. foundational program (or equivalent from another yoga school, pending approval from Brooke). Students will be asked to commit to daily practices including specific meditations, mantra japa, asana, supportive lifestyle practices, and more. These are powerful teachings and as such, students are advised to reflect on whether they can commit the time and energy required to integrate these teachings and practices into daily life.
Overview of Topics Covered:
The Science of Embodiment: The Living Experience

Shakti Sadhana: The Cultivation of Power: Will, Strength (The Practice that Awakens Shakti)

The Need for a Teacher: Twilight Language (code) what is missing/what needs to be done//guidance from your own ego (not to misuse of power) and adhikara: progressive steps

Tantric Meditations

Sankalpa Shakti & Vichara

The Vital Essences

Tapas/Tejas

Source as Divine What is Your Connection to Source?

The 5 Elements & 6 Tastes: Spices of India/California/Mediterranean

Temples, Altars, the Sacred: Body as Shrine; Tantric Healer's Toolbox (Optional Online/Video)

Mantra Sadhana

Cave of the Heart Kriya

Bhuta Shuddhi

Laya Yoga

Chakra Study
About Wild Temple Yoga…
Wild Temple Yoga is a unique and powerful comprehensible Yoga Alliance certified Yoga Teacher Training (YTT) that is broken up into 5 digestible 100hr. modules offered throughout the year. Rooted in The Himalayan Sage Sri Vidya Tantra Tradition, Brooke Sullivan, teacher and founder of The Wild Temple School, weaves ancient techniques of living traditions into the modern life and mind. She draws from Yoga Science, Tantric Philosophy, and Botanical Wisdom to provide a profoundly integrative and deep training. Wild Temple Yoga teaches about love, faith, and power in a non-dogmatic format, where interactive discussions are the highlight and students can discover and begin to embody what is True for them, in relation to topics such as power, oneness, fear, the monkey mind, dharma or one's life path, right/wrong, emotional and physical health, Source consciousness, etc.
The practices and course topics are designed to awaken each student's own empowered self and inner teacher, leading them into successful lives with rich relationships and the strength to shift unhealthy habits with an increased capacity for patience, love, and compassion. Wild Temple Yoga is dedicated to anyone interested in self-transformation through the yogic path and/or becoming a yoga teacher. Students who journey down the Wild Temple Yoga path will be guided deeply, safely, and effectively, towards becoming advanced practitioners and teachers. For more information, please click HERE.
Teacher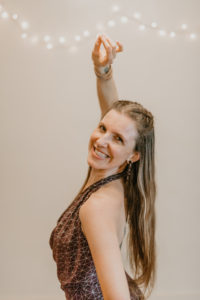 Brooke Sullivan
Brooke Sullivan BA, e-RYT500 is an herbal yogini, writer, retreat leader, practitioner and educator of the Science and Philosophy of Sri Vidya (ParaYoga) Tantra. She is the director of The Wild Temple School of Yoga and Herbal Wisdom and lead teacher of the Wild Temple's 500hr. yoga training program. An initiate of the Himalayan Sages, her passion is to empower and to embody the sacred in all aspects of life and her mission is to empower people…sometimes even, radically…to step into their highest, healthiest most powerful selves. Brooke's dedication to yoga and the healing arts has been cultivated with…
Learn more about Brooke Sullivan