Yoga of Ayurveda (100hr)
With Brooke Sullivan
September 11 - November 20, 2018
Yoga of Ayurveda (100hr) is one of two modules that make up The Wild Temple School of Yoga + Herbal Wisdom's 200hr. foundational yoga teacher training course. Students who take this module along with Roots of Tantra (100hr) may be certified at the 200hr. level through Yoga Alliance. In this module, students will learn the basic framework, foundational practices, and teachings of both Tantric Hatha Yoga and Ayurveda.
The key areas of focus for Yoga of Ayurveda 100hr. include:
1) Self-care practices – the importance of one's daily rhythm, spiritual practices, and basic lifestyle habits
2) Breath – an overview, elaboration on, and deepening of the foundational breathing practices of tantric hatha yoga & the Himalayan Sage tradition
3) Harnessing the mind – practical methodology via meditation, mantra, and breath for stabilizing and sharpening mental acuity
4) Ayurveda – intro to and overview of this sister science of yoga for support, healing, and enhancing one's practices
5) Developing a practice – understanding how nature and the elements affect our body and mind, and how to develop your own practices for self-care, balance, and transformation…

Overview of Topics Covered:
What is Yoga?
What is Tantra?
The Yoga of Ayurveda
Dinacharya
Kitchen Sadhana
Overview of the Doshas
Overview of the 6 Fundamental Practices of ParaYoga Tantra
Biodynamics of Asana
Breakdown of Postures
Energetic & Therapeutic Benefits (Yoga Chikitsa)
Anatomy of a Yogi
Trigger Point Therapy
Techniques 101: Pranayama, Mudra, Kriya, Bandha, and the science of Meditation & Mantra
Freedom from the Fear of Death: Maha Mrityunjaya Mantra
Herbs for the Doshas
Special Guest Instructors:
Anatomy + Physiology with Tim McNeely
Nutrition + Ayurveda with Ashlee Sakaishi Wilkin
Alignment, Restorative Yoga, Yoga Props, and Art Therapy for Yoga with Mandy Lucchese
"With individual support and the company of like minds, the Sage Yoga Teacher Training Program will guide you towards your own growth and evolution while deepening relationships to both your inner and outer world." – Brooke Sullivan
More about Wild Temple Yoga…
Wild Temple Yoga is a unique and powerful comprehensible Yoga Alliance certified Yoga Teacher Training (YTT) that is broken up into 5 digestible 100hr. modules offered throughout the year. Rooted in The Himalayan Sage Sri Vidya Tantra Tradition, Brooke Sullivan, teacher and founder of The Wild Temple School, weaves ancient techniques of living traditions into the modern life and mind. She draws from Yoga Science, Tantric Philosophy, and Botanical Wisdom to provide a profoundly integrative and deep training. Wild Temple Yoga teaches about love, faith, and power in a non-dogmatic format, where interactive discussions are the highlight and students can discover and begin to embody what is True for them, in relation to topics such as power, oneness, fear, the monkey mind, dharma or one's life path, right/wrong, emotional and physical health, Source consciousness, etc. The practices and course topics are designed to awaken each student's own empowered self and inner teacher, leading them into successful lives with rich relationships and the strength to shift unhealthy habits with an increased capacity for patience, love, and compassion. Wild Temple Yoga is dedicated to anyone interested in self-transformation through the yogic path and/or becoming a yoga teacher. Students who journey down the Wild Temple Yoga path will be guided deeply, safely, and effectively, towards becoming advanced practitioners and teachers. For more information, please click HERE.
Teacher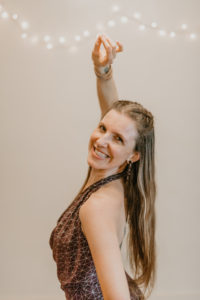 Brooke Sullivan
Brooke Sullivan BA, e-RYT500 is an herbal yogini, writer, retreat leader, practitioner and educator of the Science and Philosophy of Sri Vidya (ParaYoga) Tantra. She is the director of The Wild Temple School of Yoga and Herbal Wisdom and lead teacher of the Wild Temple's 500hr. yoga training program. An initiate of the Himalayan Sages, her passion is to empower and to embody the sacred in all aspects of life and her mission is to empower people…sometimes even, radically…to step into their highest, healthiest most powerful selves. Brooke's dedication to yoga and the healing arts has been cultivated with…
Learn more about Brooke Sullivan