Sage Medicine Series: Spiritual Herbalism + Plant Activation
With Brooke Sullivan
November 4, 2017 - February 11, 2018
Welcome to The Sage Medicine Series, a 4 weekend series (64 certified training hours) that embraces Tantra Yoga + Herbal Medicine for understanding & activating our physical, pranic, and mental "bodies" for health & transformation.
This course is for anyone with a curiosity and passion for the magic of plants and flowers, and also for those who desire to be more empowered around their own health. It is especially well-suited for Yogis [those on the path of yoga] seeking a deeper connection to Nature, as well as Herbalists craving a deeper understanding of Self.
According to the wisdom traditions, each of us have come here with a particular soul-mission. In the ancient sciences of Tantra, Classical Yoga & Ayurveda, this is called SvaDharma, our unique blueprint for life. In one aspect of this blueprint lies our True Nature, or Essence & also encoded in this blueprint is our Unique Path. If these two pieces don't match or if either side is hidden, avoided, disempowered, rejected or otherwise ignored, we become ill. This sort of spiritual illness is pervasive in our society and is not only negatively affecting our own lives, but also human civilization at large. Empowerment, clarity, purpose and Self-realization are key focal points for aligning to our Soul Mission. They also lie at the core of the Sage Medicine Series.
Drawing from ancient tantric & yogic scriptures and the wisdom of the Himalayan Sages, Brooke teaches in order to empower people to step into their own highest potential. Her main tools are Tantra, Herbalism (with a spiritual, energetic and vitalist slant) and Ayurveda, which when woven together, offer both a balanced AND accelerated path of awakening that helps one remain steady and clear amidst the constant changes of life. This tapestry is the People's Medicine, blessed by the Sages.
To listen to an interview with Brooke Sullivan on The Herb Nerd podcast, click HERE!
Photo Credit: Alyssa Keys Photography
Teacher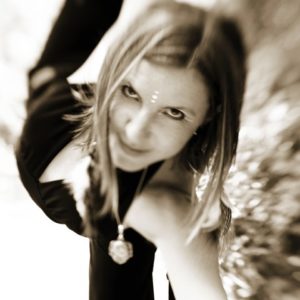 Brooke Sullivan
Brooke Sullivan BA, e-RYT500 is an herbal yogini, writer, retreat leader, practitioner and educator of the Science and Philosophy of Sri Vidya (ParaYoga) Tantra. She is the director of The Wild Temple School of Yoga and Herbal Wisdom and lead teacher of the Wild Temple's 500hr. yoga training program. An initiate of the Himalayan Sages, her passion is to empower and to embody the sacred in all aspects of life and her mission is to empower people…sometimes even, radically…to step into their highest, healthiest most powerful selves. Brooke's dedication to yoga and the healing arts has been cultivated with…
Learn more about Brooke Sullivan